Top 10 Best Car Floor Mats [2021 Edition]
Car floor mats are one of the best ways to protect and keep your carpets clean. 
As car detailers, one of the most common issues we come across is usually carpet-related.
Let's think about it for a minute.
Each time you come into your car, you're bringing in outside elements like dirt, sand, mud and road salt. 
Not to mention the food crumbs or drink spills that accidentally land on your carpet while eating.
And if you've got any pets that love to travel with you, you better bet their fur is lingering on those carpets too. 
THIS is why car floor mats are an absolute MUST to protecting your vehicle's carpeting from everyday wear and tear.  
Spending a little extra money now is well worth it as opposed to spending more money later on when you have to treat the stains.
Think about how much easier it will be to clean dirt that is concentrated in one place as opposed to it being scattered everywhere AND how it could significantly increase your resale value if you choose to sell your vehicle later.
In this article, we've compiled a list of 10 of the best floor mats on the market from some of the most trusted brands to suit every budget and need.  
1. Best Overall: Husky Liners WeatherBeater Floor Liners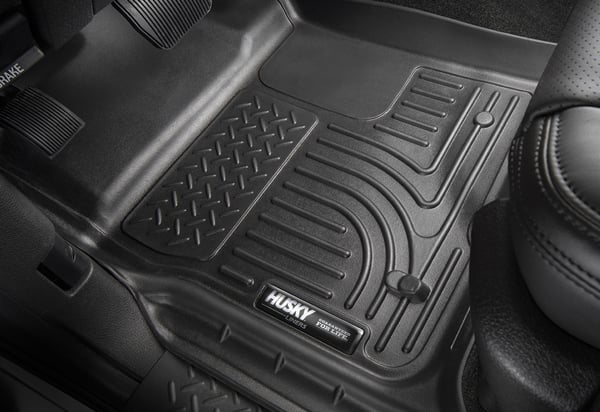 The Husky Liners WeatherBeater Floor Liners are built to mould perfectly to the contours of your vehicle giving you that perfect fit. The patented thermoplastic material was engineered to withstand more than just the common elements of water, salt and mud but also extremely cold and hot temperatures as well as common chemical spills. This makes them perfect for all drivers, terrains and weather conditions. 
The liners feature their patented FormFit Edge is a raised ridge that runs along the door jams while the StayPut Cleats lock the liner in place to prevent them from shifting. They're also easy to install and a breeze to clean up. 
The Bottom Line: You can beat these mats up and trust that they'll hold out. 
Pros: Custom fit; StayPut Cleats; Chemical resistant; Lifetime warranty 
Cons: Can curl on edges; Aren't made for as many vehicles
2. Best Canadian Made: Tuxmat Black Floor Mats
Tuxmat's Black Floor Mats are designed to be the "Ultimate Car Mat" with a perfect fit, maximum coverage, and a high-end finish. Their looks aren't the only great thing about them. Its distinct advanced laser scanning technology guarantees an exact fit for each vehicle while its three-layered construction makes them 100% waterproof for providing long-lasting durability and outstanding quality.   
You'll also find retention hook holes on the driver's mat, complete footrest coverage, side security clips, and installation guides.
The bonus: Tuxmat orders ship in 2 business days to when the order is placed. Can't be mad at that.
Pros: maximum coverage; 100% waterproof; easy clean up; footrest coverage; lifetime limited warranty;  
Cons: sold in one colour;
3. Popular Pick: WeatherTech DigitalFit Floor Liner 
WeatherTech's DigitalFit Floor Liner is designed to provide full coverage of the floors with raised sides and patented High-Density Tri-Extruded (HDTE) material, these mats offer durability, non-slip texture and weather resistance in extreme temperatures. 
Its advanced surface design is created to carry fluid and debris away from your shoes towards the lower reservoir containment. Therefore, keeping melted snow and dirt in one place for easy cleanup. 
Pros: Laser-measured for precise fit; lower reservoir containment; easy cleanup; lifetime limited warranty
Cons: Expensive; can get slippery in unridged areas; hard to uncurl due to stiff material 
4. Best Bargain Buy: OxGord Universal Fit Heavy Duty Floor Mats
If you're looking to find the best bang for your buck, these OxGord Heavy Duty Liners are it. Designed to be a universal fit, these mats are customizable to suit most common cars, trucks, or SUVs. The high-quality rubber makes them water-resistant, stain-resistant and provides for easy cleanup when necessary. 
Each set purchased includes three pieces with two front mats and one long rear mat to protect passenger seating areas. They also come in multiple colours to suit your aesthetics (black beige, gray).
Pros: budget-friendly; good protection; trim-to-fit; easy cleanup; 
Cons: strong odour; low grooves aren't the best for trapping snow; slips on carpet  
5. Budget Pick: Motor Trend FlexTough Contour Liners
Motor Trend's FlexTough Floor Liners are the most budget-friendly option on the list. These mats have been constructed of rubber polymers that have been tested to withstand cracking and deforming in even the most extreme temperatures. With dirt and fluid trapping capabilities, you can rest assured that debris won't land on your carpets. Additionally, the nubs on the bottom keep them from shifting to allow for a safe drive.  
To provide that extra customization and perfect fit, all mats are trimmable to fit the contours of your car's floors. At just a fraction of the price of higher-end liners, motor trend mats are durable enough to give you that protection you're looking for.  
Pros: Price; eco-friendly material; 
Cons: trim-to-fit design may result in an inexact fit 
6. Best Coverage: Enthuze Floor Liners
Enthuze Floor Liners are made from a high-quality, eco-friendly and low-density polyethylene material to provide durability in all-weather conditions. The robust material is meant to protect against standard common elements like water and salt as well as chemical spills like oil, gasoline, and battery lead.
They are custom moulded to precisely fit your SUV, van, or pickup and feature a raised lip for maximum coverage and carpet protection. They manufacture both front and second-row liners and come in a tan, black or grey finish.
Pros: Price; eco-friendly material; super durable; maximum coverage 
Cons: not made for sedans/small cars; 
7. 

Best All-Weather: WeatherTech All-Weather Floor Liners 
WeatherTech All-Weather Floor Liners are designed to provide a custom fit with deep grooves to keep water, salt, mud and sand away from footwear and off your carpeting. 
The Thermoplastic Elastomer (TPE) material is odourless, latex-free, flexible and completely recyclable! It is engineered to resist curling and cracking in even the most freezing temperatures so you can rest assured that it will sit flush on your carpet at all times. The mats feature a non-stick coating to allow for easy cleanup as well as anti-skid ridges to keep them in place while driving. 
The Bottom Line: No more curling and cracking in subzero temperatures.
Pros: Will not crack or curl in cold temperatures; lifetime limited warranty
Cons: May require cutting or trimming for better fit
8. 

The Steal: Armor All Rubber Floor Mat 
At less than $40, these all-weather floor mats are an absolute steal! Armor All's Rubber Floor Mats are manufactured with deep tread patterns to collect rain, snow, mud and dirt as well as anti-slip claws to hold your mats in place while you drive. In sub-zero weather, you can rest assured that they won't curl, crack, or harden.
The mats are customizable to fit almost any vehicle using a pair of scissors and come in a couple colours to suit your personal aesthetic – black, tan or grey.    
Pros: budget-friendly; anti-skid; good containment of fluid and debris
Cons: strong odour; back mats may run small
9. Most Stylish: 3D MAXpider Custom Fit All-
Weather Floor Mat
If you're looking to stray from the traditional heavy-duty rubbery look and are seeking a more sleek style that doesn't compromise on protection, 3D Maxpider All-Weather Floor Mats may be just what you need. The three-layered construction is designed to fit the contours of your vehicle to trap mess and spills. The anti-skid bottom layer keeps mats in place without leaving marks unlike other traditional mats with nibs. 
To compliment your unique style, they offer two textures — carbon fibre or polyester looped fabric— and three colours —grey, tan or black. As a bonus, the materials are non-toxic and odourless while also being easy to clean with a simple spot treatment or hose. 
Pros: maximum coverage; non-toxic, odourless
Cons: price; some complaints about difficult cleanup 
10. Best For Trucks: Rough Country Heavy Duty

 Floor Mat
Need something heavy-duty for your truck? These Rough Country Heavy Duty Floor Mats can handle it. Eco-friendly, semi-flexible floor mats and super durable, these mats are made to resist harsh weather conditions and protect your carpet from mud, water, sand and other external elements. The laser-measured structure provides an accurate fit and raised-lip for extra coverage and protection.
In addition, the mats are easy to clean and maintain and are backed by a limited lifetime warranty. 
Pros: maximum coverage; temperature & weather-resistant; easy cleanup; limited lifetime warranty
Cons: Some complaints that mats slide around 
Final Thoughts 
Our top pick for the best all-weather mat would be the Husky Liners WeatherBeater Floor Liners for their durability and wide range of car compatibility. 
If you're looking for a more affordable option without compromising on the durability, the OxGord Heavy Duty Liners make for a great second choice.